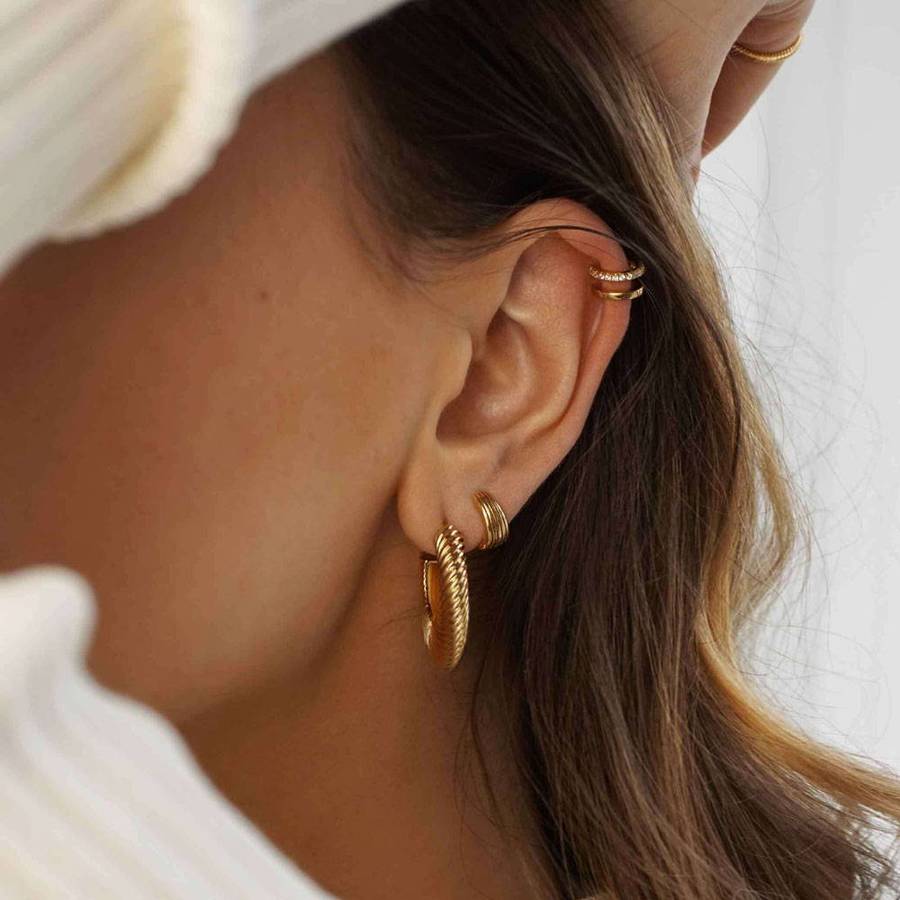 YOUR JEWELLERY STYLING FAQS ANSWERED
We put out a call out to our A&M community on Instagram, to hear all your burning jewellery styling questions, queries and qualms. Our style-savvy jewellery experts have gone through your fantastic questions and have put together the below one-stop-shop for guiding you through your accessory dilemmas.
Back to articles
We put out a call out to our A&M community on Instagram, to hear all your burning jewellery styling questions, queries and qualms. Our style-savvy jewellery experts have gone through your fantastic questions and have put together the below one-stop-shop for guiding you through your accessory dilemmas.
For more styling content everyday, be sure to follow us on insta ~ @astridandmiyu
What are the piercing trends of 2021?
A better question would be 'what aren't the piercing trends of 2021?'. Everyone is craving their first post-lockdown piercing, so a key trend would be 'more is more.' Think stacked up lobe piercings, double helix piercings and sparkly accent piercings in daith and tragus locations. Our piercing studios are now taking bookings - but be quick! Appointments are already going fast...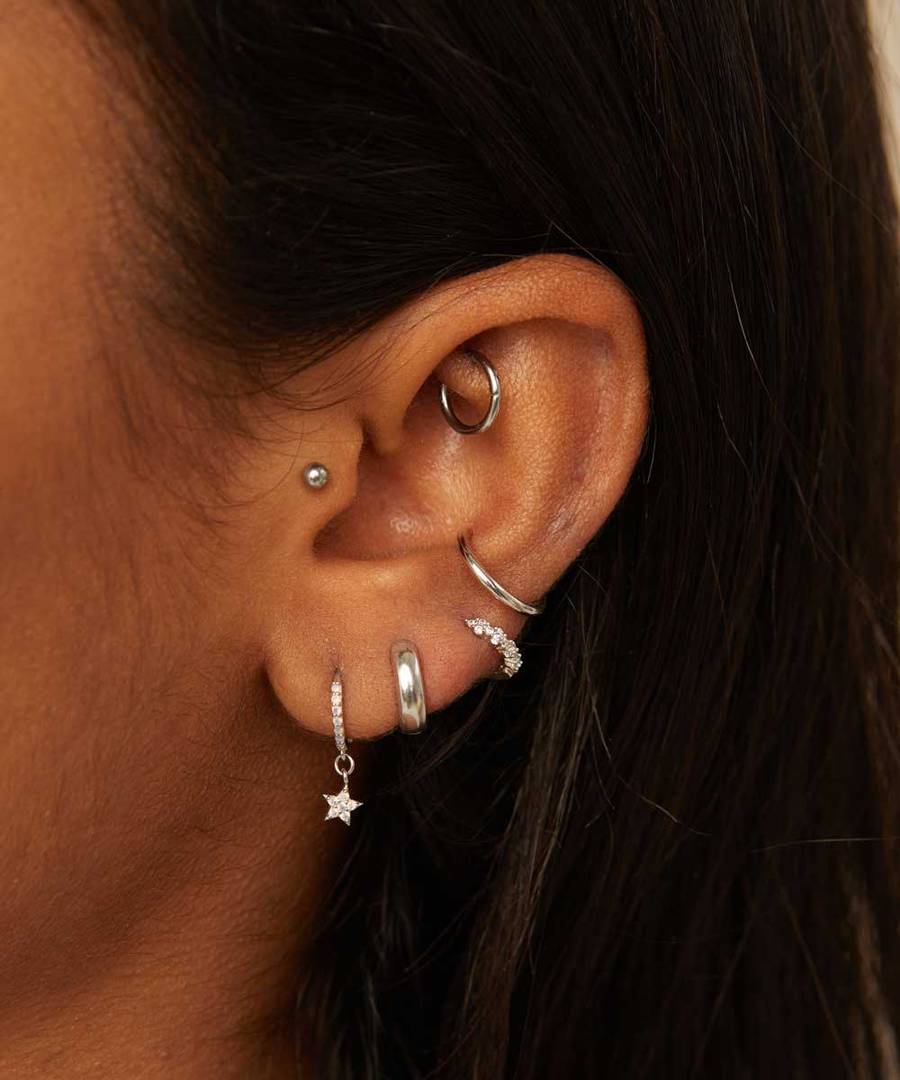 Help me clean my silver jewellery so that it sparkles?
According to our jewellery experts, you should clean our gold-plated sterling silver jewellery with a soft, non-abrasive cloth. We recommend steering clear of harsh chemicals that you find in treated jewellery cloths, which could damage the plating. Another top tip to keep your jewellery sparkling - your jewellery should be the last thing you put on in the morning, and the first thing you take off at night. Avoid contact with perfumes and cosmetics, as this may dull the shine of your jewellery! Check out our Jewellery Care Bible to learn more about how you can give your jewellery some TLC.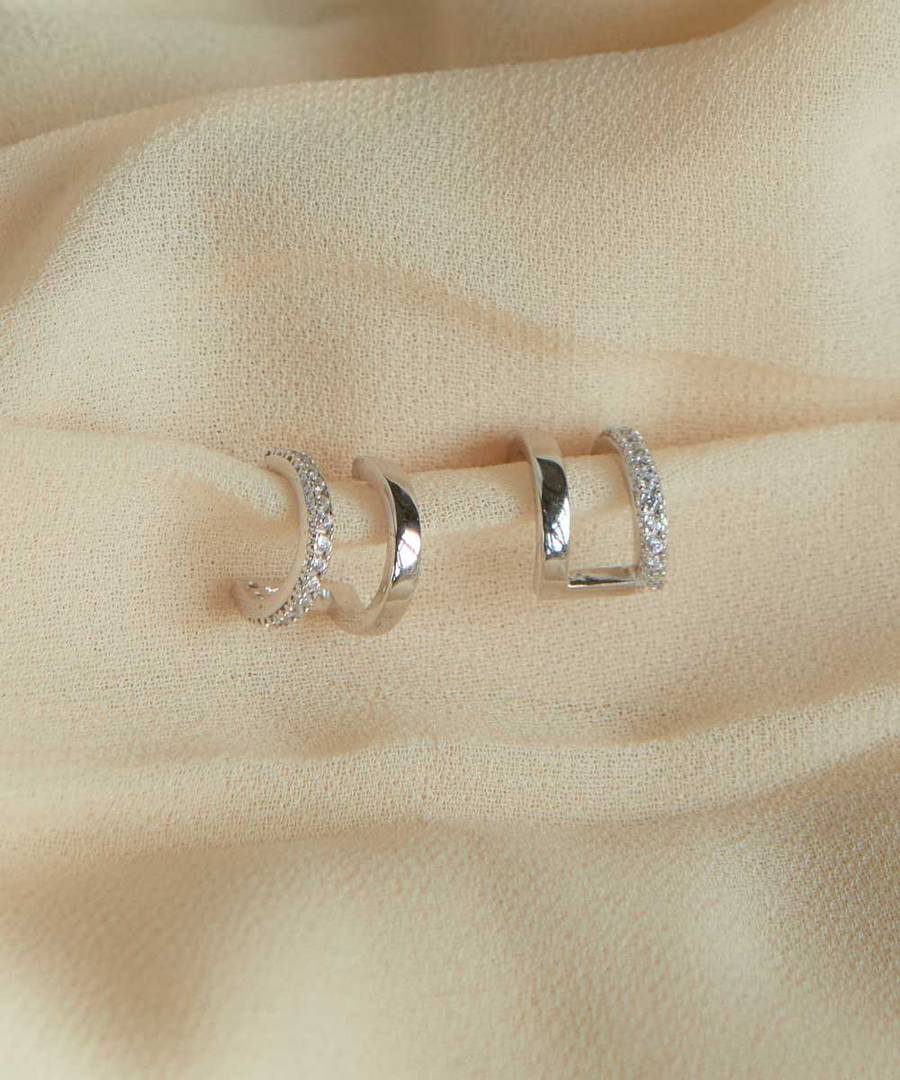 Can you mix different coloured metals?
Yes - definitely! At A&M we love a mixed metals look, it makes your jewellery stand out from the crowd, and gives it a unique edge. It may seem scary, but once you know how to do it you won't want to stop. We have curated a guide on how to wear mixed metals, as well as which plating suits your skin tone best. Find out more below.
How do you choose jewellery when buying for a friend?
Choosing jewellery gifts for your friends can be super difficult - jewellery style is so personal, it's important to get it right to make sure that they treasure and wear your gifts all the time. Luckily for you, we've created a gift guide for every personality, so you can choose an A&M piece that fits their style perfectly. Find out your friend's jewellery personality below!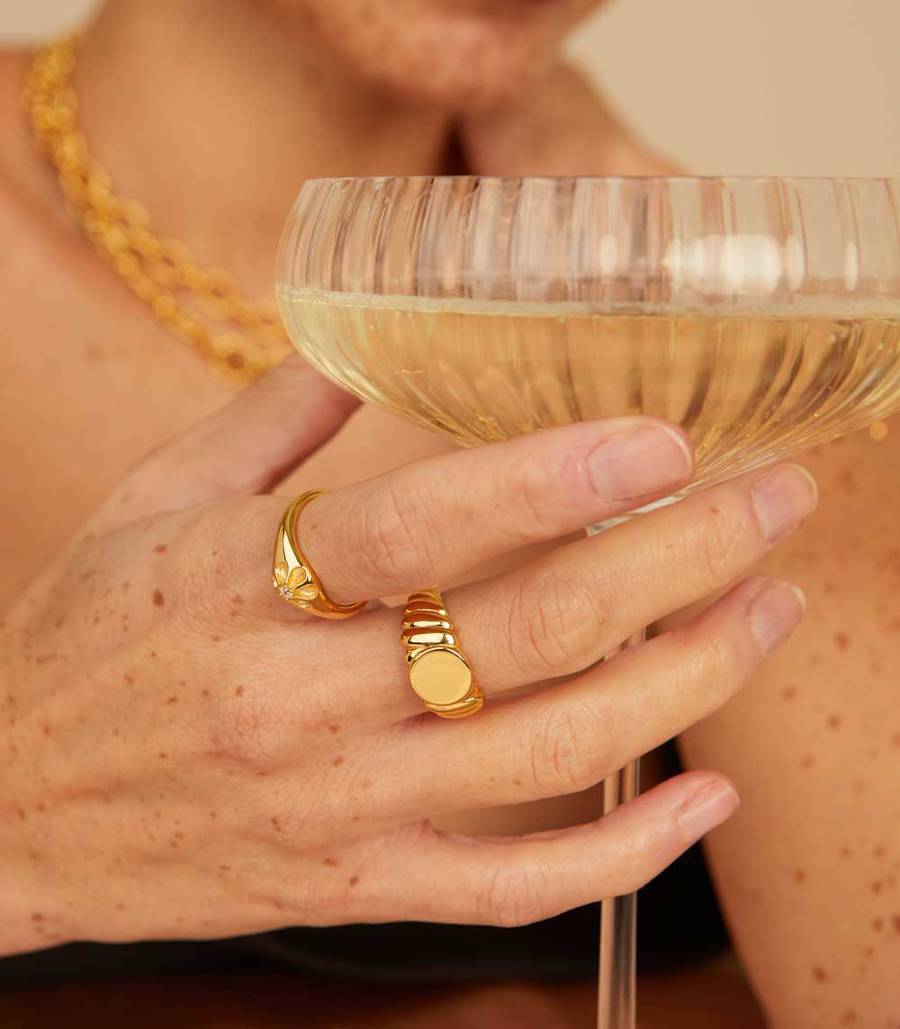 How can I accessorise my face mask?
Face masks aren't exactly the most glamorous accessory, but A&M can add shine to any look with our Multi-Use Chains. Designed to slot onto your face mask straps, these chains come in gold, rose gold & silver so you can coordinate with your jewellery look. And better yet, when we're done with face masks (we're counting down the days until June 21st!) these can be worn with your sunglasses, or even as a chain necklace. Shop Multi-Use Chains below.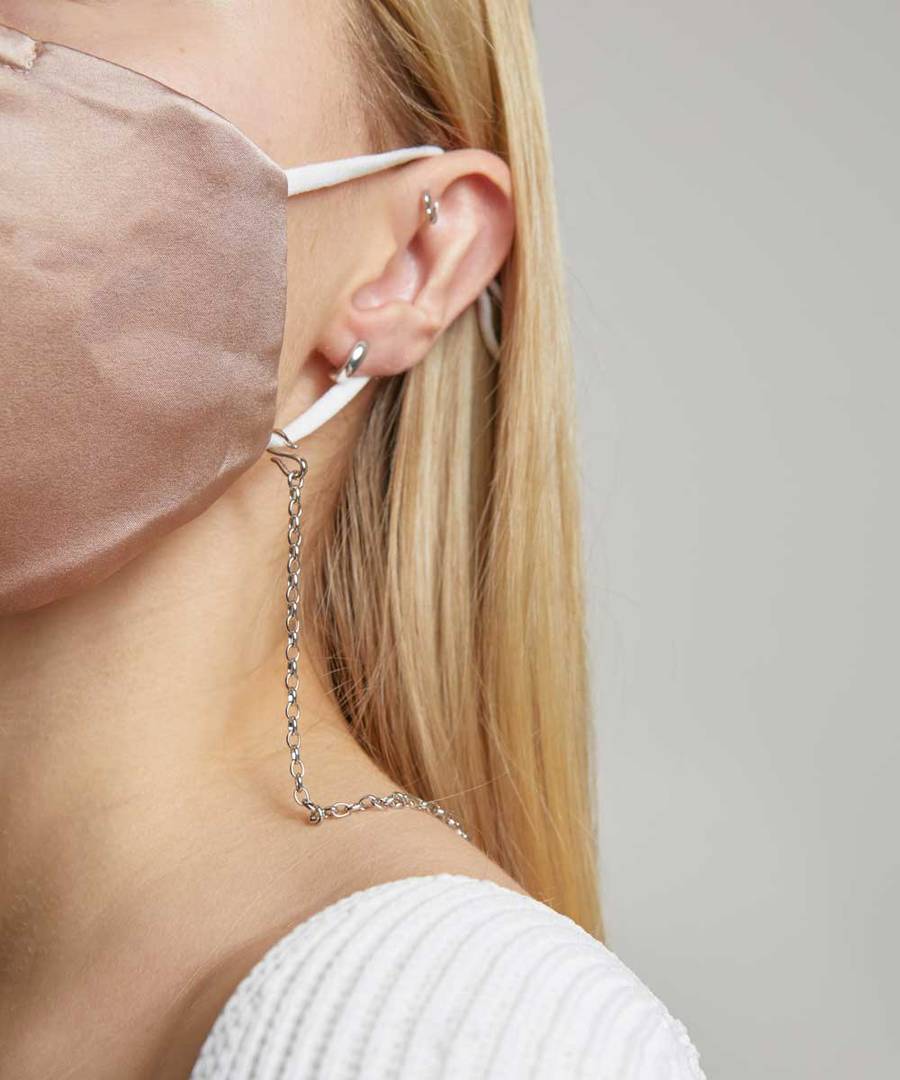 EARRING & PIERCING QUESTIONS
How can I justify buying new earrings? (Please persuade me)
We are definitely the right person to ask this question ~ you always need new earrings. With the lockdown easing soon, you'll need some new earrings for your post-lockdown look. New earrings are an essential for garden BBQs, right? See our new Aurora Collection for earring inspo, featuring chunky hoop earrings and sparkling ear cuffs for a (socially distanced) party-appropriate look.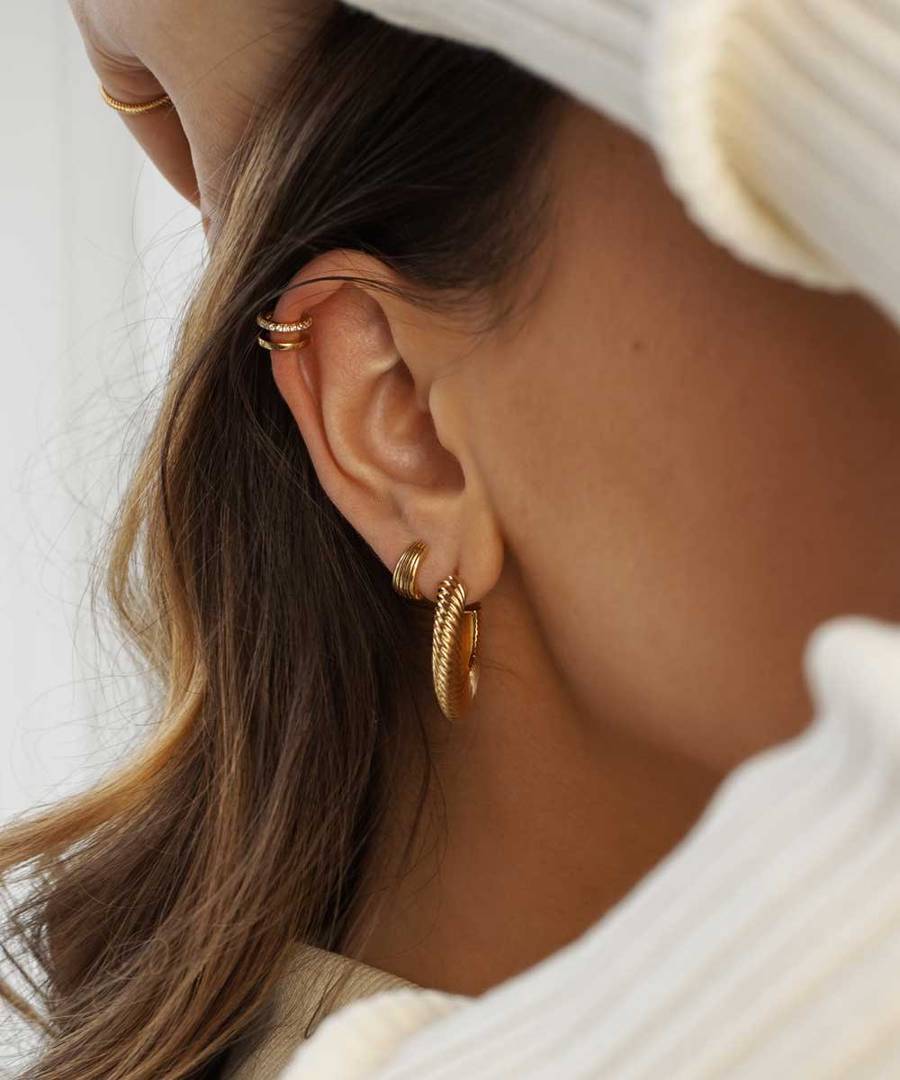 Can I wear your clicker hoop earrings in my tragus piercing?
Our clicker earrings are tiny, so they fit perfectly in your tragus piercing! Our cartilage hoops are a perfect way to add extra sparkle to your piercings. We recommend that you double-check the dimensions of the hoop you're looking to buy to make sure it will fit in your piercing, and also make sure that your piercing is completely healed before switching out the piercing jewellery! For more earring and piercing advice, check out our Ear-Cyclopaedia.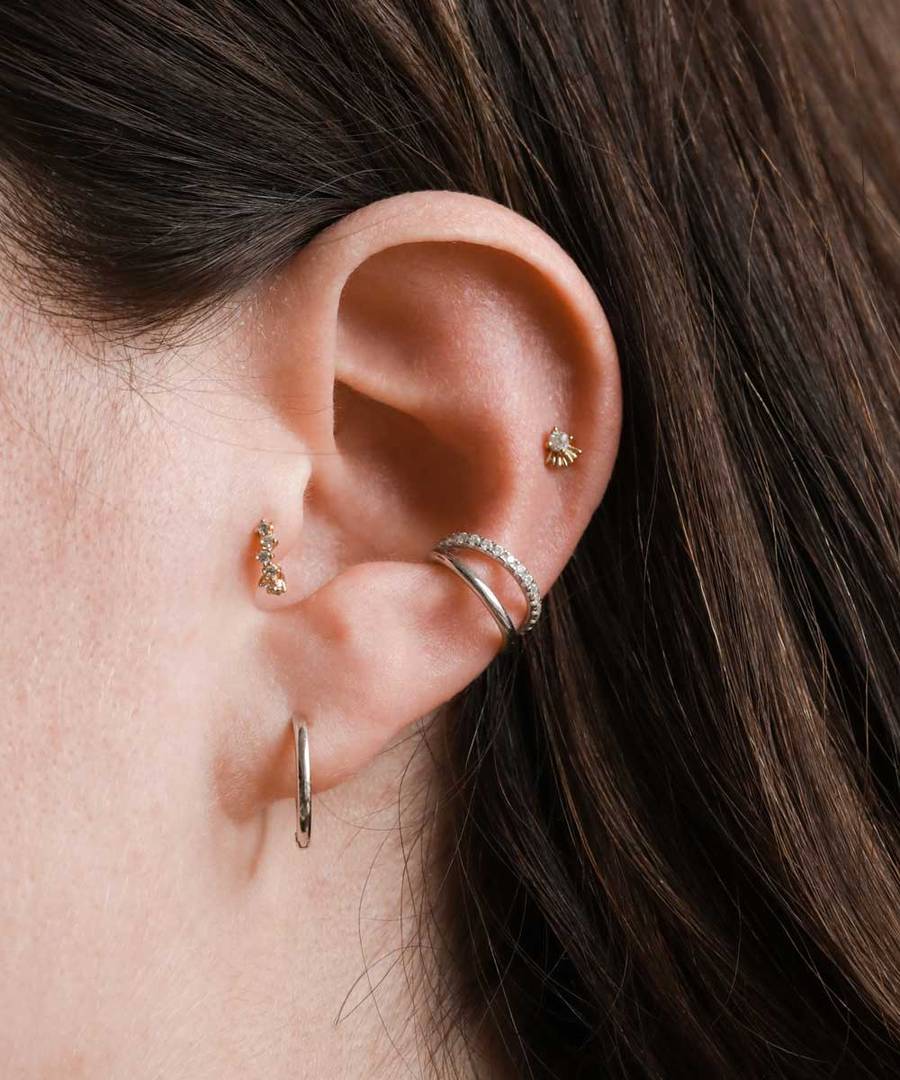 Which piercing hurts the most?
Piercing pain is different for everyone, so different people will have different answers for this. According to our expert piercers, the most painful piercings would have to be the rook & daith piercings, as we have to pierce through quite a thick area of cartilage. But, they're super on-trend, so the pain is 100% worth it (we promise).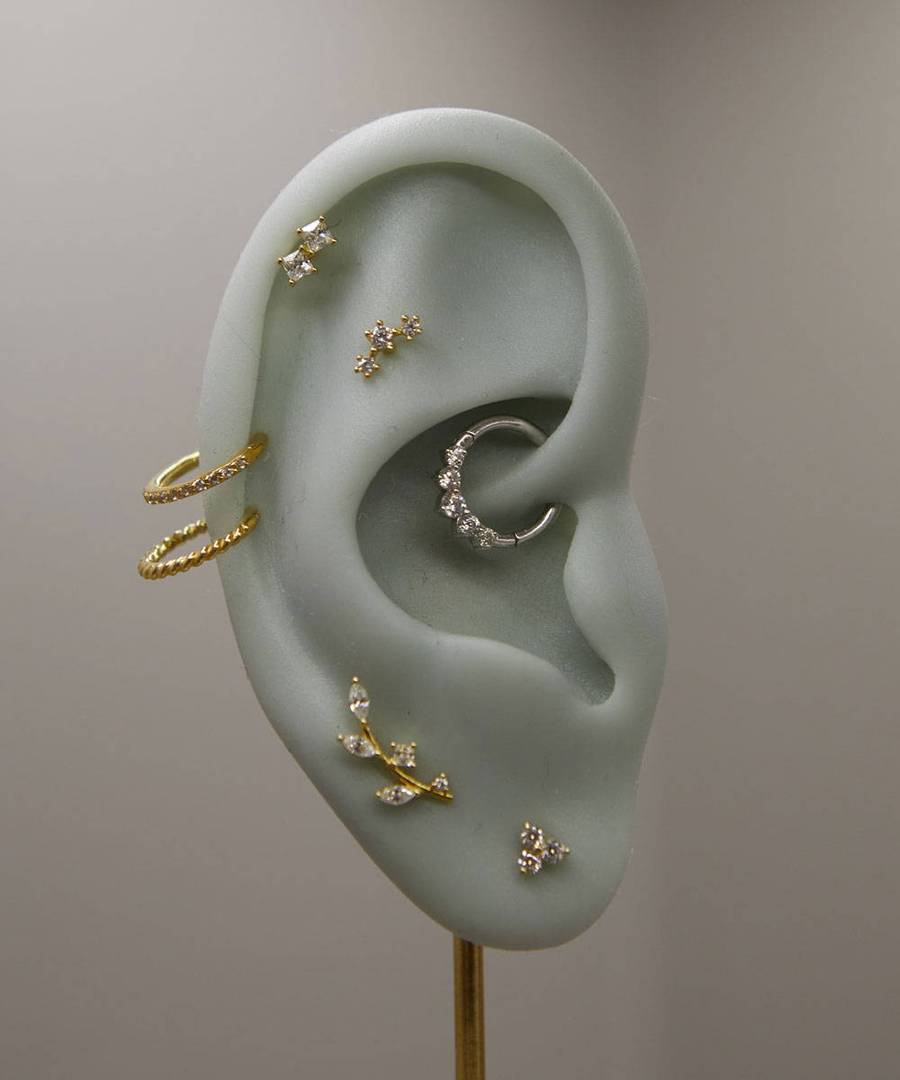 RING QUESTIONS
I want to stack rings, but not have it look too much… how do I do this?
Ring stacking is definitely an art ~ and our ring collection is a sight to behold. If you are just starting out ring stacking, we'd recommend starting with our band rings, like the Elemental Ring & Molten Ring, as they're easily stacked together and can never look too much! If you wanted something a little bolder, maybe try out our best-selling Rope Dome Ring, which adds a luxe statement in an understated and chic way.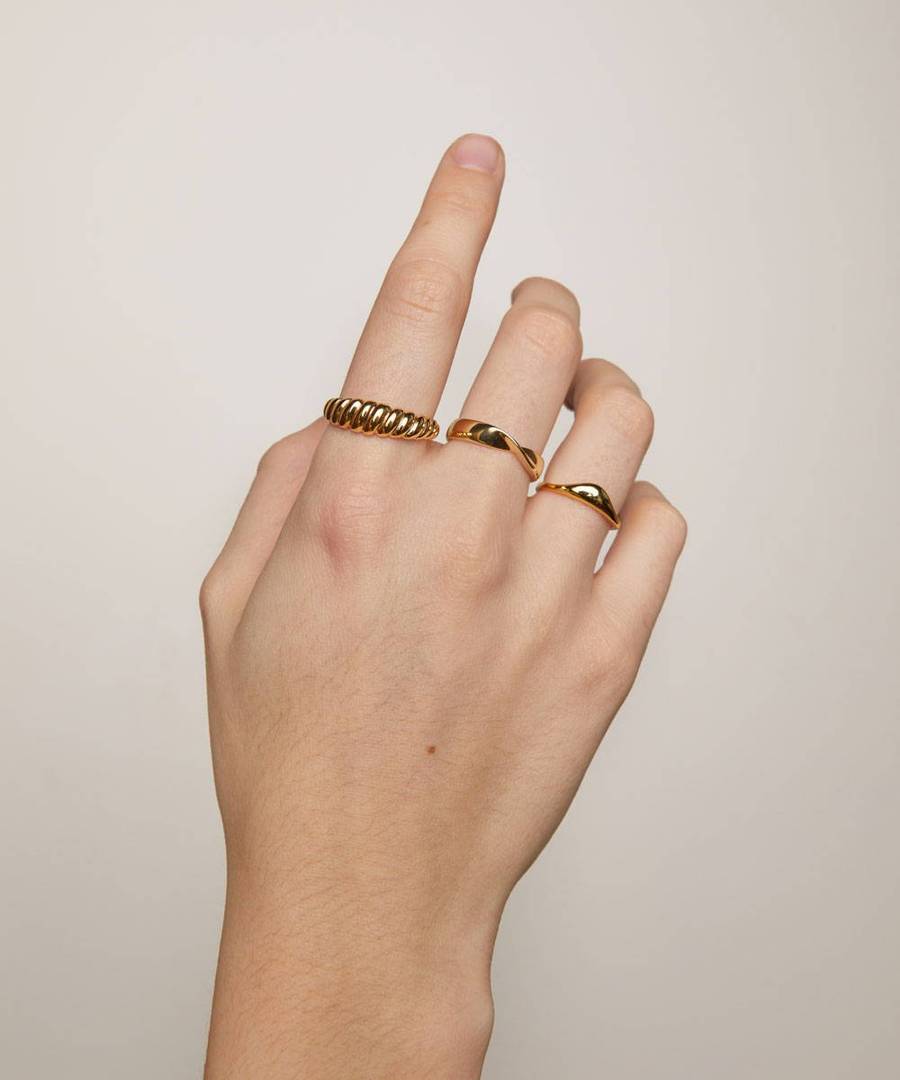 NECKLACE QUESTIONS
How should I wear chunky necklaces?
Chunky chains are a jewellery box staple here at A&M ~ they're versatile, they make a statement and they're so on-trend for 2021. If you're more of a dainty jewellery kinda person, chunky necklaces can appear to be daunting. Maybe start out with one chain to start out with ~ our Ribbed Link Chain Necklace can be worn three ways (a long chain necklace, a lariat or a choker) so you get three different looks for one price! Or, our best-selling Snake Chain Necklace is a classic piece, and can be worn alone or with daintier pendant necklaces. Check out our 6 Ways To Wear Chunky Chains for more styling inspo.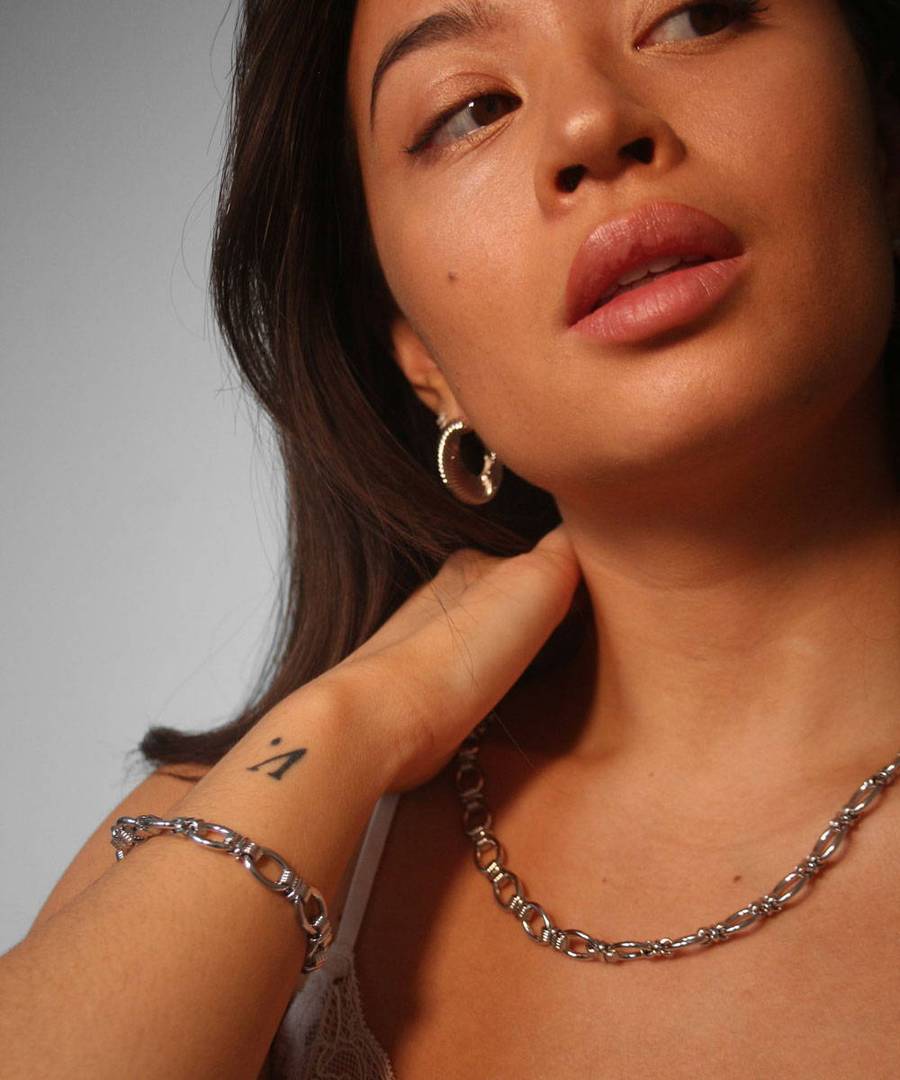 How do I stop necklaces from tangling?
To stop necklaces from tangling while you're wearing them, we recommend wearing necklaces of different thicknesses - dainty necklaces of the same weight are usually the ones that get tangled the most, so make sure you wear a mix of dainty and chunky chains to stop tangling. When you're storing your necklaces, maybe invest in a jewellery tree, so you can hang your necklaces up individually. When they're stored on a tray with other necklaces, they usually end up in a tangled mess! For more tips & tricks on necklace layering and keeping tangles at bay, check out our Necklace Layering Lookbook.